Call of Duty 2 : Big Red One
En Call of Duty 2 : Big Red One formas parte de la primera división de infantería americana, la Big red One. Lucharás por liberar de las tropas alemanas en escenarios como Túnez, Libia, Italia, Francia, Bélgica y Aleania.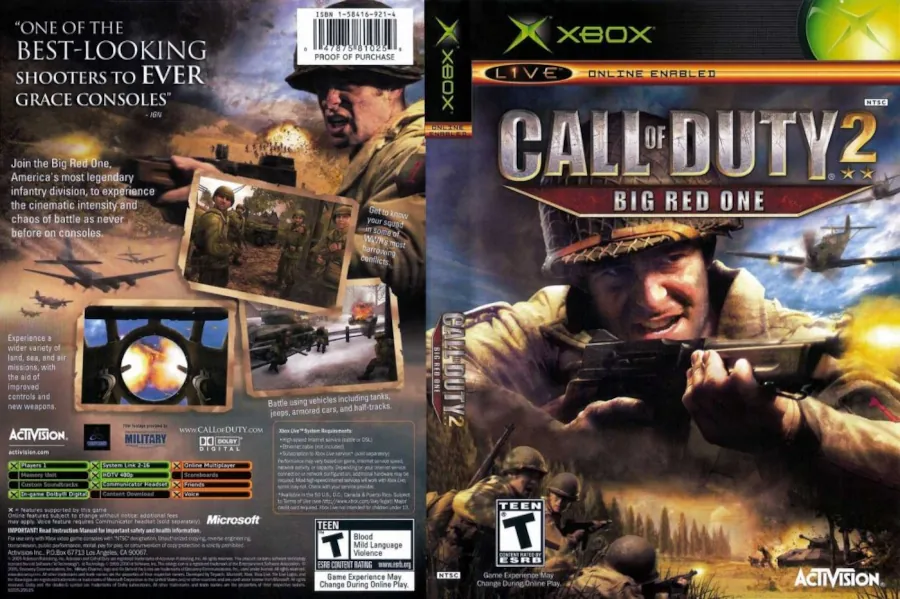 Jueo añadido a nuestro listado de juegos de la Segunda Guerra Mundial
Ficha juego
Publicado: Activision
Tipo de juego: Primera persona ( FPS )
Plataformas: Xbox, PlayStation 2, Nintendo Game Cube
Plataforma comentada: Xbox
Nota Meristation: 8.5
Jugadores: de 1 a 16
Otros comentarios: Salió el 18 de noviembre del 2005
InGame
Descripción
Esta versión es la que hizo Activision para traspasar Call Of Duty 2 de PC hacia plataformas como PlayStation 2 y Xbox.
Deberás limpiar varias zonas de los 88, ponerte en manos de cañones antiaereos para derribar stukas, ser artillero de cola de un Liberator y muchas otras sorpresas.
Dispondrás de muchas armas, empezando por las que empiezas la misión finalizando por las que vas recogiendo de los enemigos.
Las misiones son variadas, y aunque el juego es bastante mecánico, te saca de la rutina las diferentes y variadas misiones a realizar. Mientras vas completando la misión encomendada, durante el recorrido se van completando puntos de control, por lo que si te matan no debes empezar desde el inicio.
Debido a lo patoso que soy con el mando, prefiero el ratón y el teclado, juego en el nivel fácil ( hay mediano y difícil ), y las tropas alemanas no son muy agresivas. Como además hay muchos botequines, te matan poquitas veces.
Si tienes ya unos añitos, recordarás Call Of Duty 2 y quizás tuviste la suerte de jugar al Big Red One en la PlayStation 2 o en Xbox.
---
Más información: