Call of Duty World at War en la NDS
Call of Duty World at War en la NDS un juego FPS para la consola Nintendo DS en la que puedes jugar sólo o con compañeros en los teatros de Europa o Pacífico.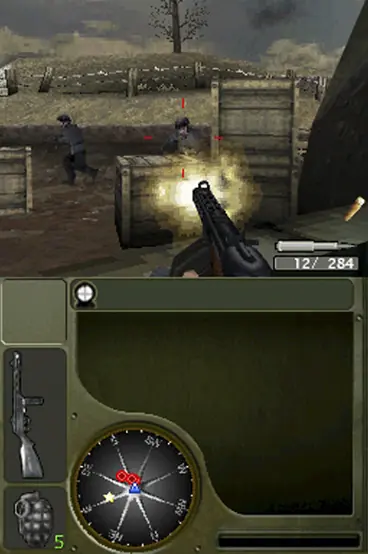 Juego añadido a nuestro listado de juegos de la Segunda Guerra Mundial.
El juego
"Deberás ponerte en la piel de un marine estadounidense o un recluta ruso en más de 20 misiones que tendrán lugar en Europa o el Pacífico. El caos que envuelve a estas batallas te obligará a hacer causa común con tus camaradas para salir con vida de los combates más encarnizados y cruciales de la guerra. El frenesí te mantendrá constantemente en vilo, ya juegues en solitario o con otras personas por vía inalámbrica o mediante la Conexión Wi-Fi de Nintendo."
Las características más destacadas del juego son:
20 misiones en Europa y Pacífico
Amplia gama de armamento, incluyendo los admirados MP44 y las ametralladoras Sten.
Combates multijugador con seguimiento de estadísticas
Podrás ganar medallas por los méritos demostrados
Combate contra los demás en más de 10 mapas multijugador, ya sea mediante vía inalámbrica o la Conexión Wi-Fi de Nintendo
InGame
Opinión
Lo dedico a todos aquellos que cuando ven o escuchan que se ha creado otro juego ambientado en la segunda Guerra Mundial exclaman: Otro mas !!! Pues sí. Otro mas. Que yo también estoy cansado de los juegos ambientados en Irak, o bandas productoras de drogas o los eternos juegos ambientados en el futuro ( aburridísimos ), y no digo nada.
Pero hay un pero. Es para la Nintendo DS. Eso quiere decir que matar a alguien es casi imposible. Con los mandos de una consola portátil es casi imposible. A no ser que tires una granada, y aún así cruzando los dedos.
No sólo a Call of Duty World at War en la NDS, es para todos los juegos FPS, jugarlos en una consola portátil es casi jugarte la consola. La mía casi acaba a 30 metros…
---
Más información