Call of Duty 2 Big Red One
Call of Duty 2 Big Red One sigue la saga después del Call Of Duty Finest Hour que salió para GameCube, PlayStation 2 y Xbox. En esta ocasión, COD2 Big Red One salió para PC y Xbox 360.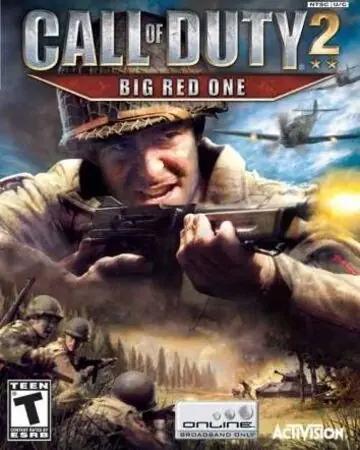 Juego añadido a nuestro listado de juegos de la Segunda Guerra Mundial.
Ficha del juego
Desarrollo: Gray Matter / Treyarch
Producción y distribución: Activision
Jugadores: 1
Formato: 1 DVD
Textos y voces: Español
Otros: Dispone multiplayer
Juego FPS ambientado en la Segunda Guerra Mundial, en la que nos ponemos en el papel de un soldado de la famosa división Big Red One e iremos a combatir a los nazis por Africa, Francia, Alemania y Francia en diferentes momentos de la Guerra.
Seguimos con la filosofía del juego utilizando diferente tipo de armamento que van desde los rifles hasta cañones o lanzacohetes. Diversidad de misiones con gran variedad de objetivos. Deberás enfrentarte a duros soldados alemanes con IA media, o a los casi imposibles Tiger que te harán que des puñetazos a tu teclado o mando…
InGame
Requerimientos mínimos
Sistema operativo: Windows 2000/XP.
Procesador: Pentium 1.4GHz o AMD Athlon XP 1700 o superior.
Memoria: 256 MB RAM.
DirectX: v9. 0c.
Tarjeta gráfica: 64 MB VRAM. ATI(R) Radeon(R) 8500, ATI(R) Radeon(R) 9000, ATI(R) Radeon(R) 9200.
Más información
Este fin de semana, cansado ya de tanto PC, he seguido mi partida del Call of Duty 2 Big Red One en mi Xbox. Voy guardando las partidas ya que cada vez que juego, debo dejarlo porque a partir de la tercera hora me mareo ( je je je ). Pues bien, acabé con el juego, eso sí en modo fácil ya que jugar en la consola no se me da muy bien ( prefiero ratón y teclado para los FPS ).
No puedo hacer un análisis objetivo ya que esta clase de juegos me apasionan. Éste en especial me ha puesto en primera linea de combate con la Big Red One, que son los que iban asomando la nariz antes que el resto. Me ha puesto en manos de antiaereos, Tigers, artillero de cola de una fortaleza, …
---
Te puede interesar