Call of Duty 5 : World at war
La saga continua con Call of Duty: World at War, o también llamado Call of Duty 5 o, sólo World at War, y que en redes sociales encontraréis abreviado como CoD5: WaW, CoD: WaW o WaW).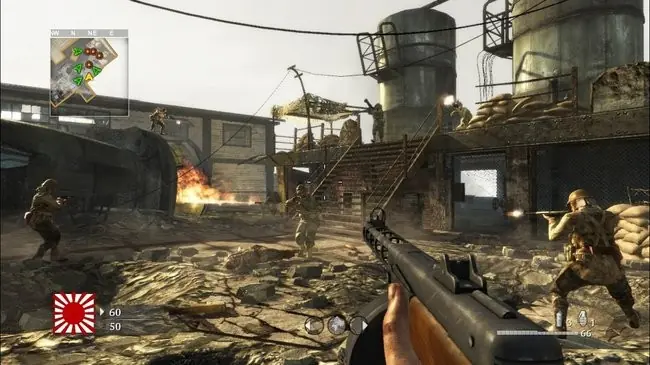 Juego añadido a nuestro listado de juegos de la Segunda Guerra Mundial
Ficha del juego
El juego coge como motor el de Call of Duty 4®: Modern Warfare. Podemos resumir su salida como un juego que no aporta muchas novedades, pero si mejoras en lo que al motor (visualidad, sonido…) puede aportar. Han aprovechado un buen motor, para crear otro COD en la Segunda Guerra Mundial.
Modo campaña con nuevos enemigos, entornos y tácticas.
Campaña cooperativa de 4 jugadores online con desafíos, clasificaciones y estadísticas.
Multijugador con estadísticas persistentes, clasificaciones de jugadores, armas mejorables, juego basado en escuadrones, clases personalizables y ventajas. Además, posibilidad de utilizar tanques.
Si eres seguidor de la saga, o te gusta la acción ambientada en la Segunda Guerra Mundial, es un título que debes tener.
InGame del juego
Requisitos para PC
Sistema Operativo: Windows 7
Procesador: Pentium 4 a 3 GHz / AMD 64 3200+
RAM: 512 MB de RAM (1 GB en Vista)
HD: 8 GB de espacio libre
DirectX: DirectX 9.0c
Tarjeta gráfica: 256 MB (nVidia GeForce 6600 / ATI Radeon X1600)
---
Más información