Fuego abierto
Fuego abierto es una película basada en una novela de Shohei Ooka, y en otra película con el mismo nombre creada en 1959 y dirigida por Kon Ichikawa. Un grupo de japoneses resisten en Filipinas en los últimos momentos de la Segunda Guerra Mundial.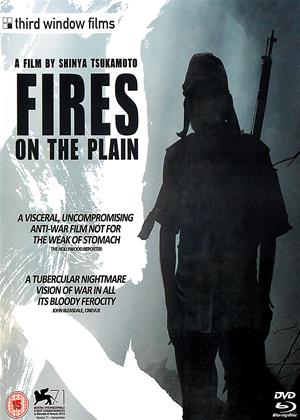 Título original: Fires on the Plain
Director: Shinya Tsukamoto
Año: 2014
Duración: 87 min.
País: Japón
Guion: Shinya Tsukamoto. Novela: Shohei Ooka
Música: Chu Ishikawa
Fotografía: Shinya Tsukamoto, Satoshi Hayashi
Intérpretes: Shinya Tsukamoto, Yûko Nakamura, Tatsuya Nakamura, Lily Franky, Dean Newcombe
Sinopsis: Con la Segunda Guerra Mundial a punto de tocar su fin, el ejército de ocupación japonés en Filipinas está perdiendo peso. Los filipinos muestran una resistencia feroz y los americanos han comenzado su ofensiva. Tamura es de los pocos soldados japoneses que quedan, pero ha cruzado un umbral que lo conducirá a un reino sin amigos, enemigos ni esperanza.
Trailer Fuego abierto
Fires on the Plain de 1959
Como está disponible en YouTubem dejamos el film del que puede considerarse secuela. La película está en japonés y subtitulada al inglés.
Fuego abierto es una de las películas que tengo pendiente y que está disponible en Filmin. Creo que al igual que otras muchas películas, ésta huye de la visión americana y nos da otra perspectiva, esta vez mostrando las condiciones en la que los soldados japoneses tuvieron que luchar a finales de la Segunda Guerra Mundial.
Más información