Company of Heroes la película
Company of heroes es una película que nos relata la misión de un grupo de soldados que descubren que los Nazis estan desarrollando una superbomba. Tendrán que impedirlo.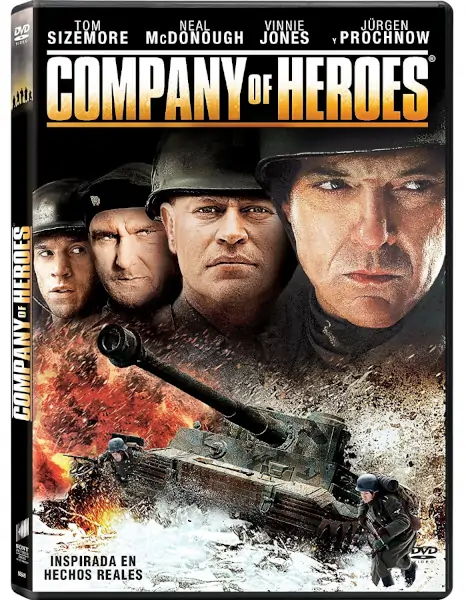 Film añadido a nuestro listado de películas de la Segunda Guerra Mundial
Ficha
Director: Don Michael Paul
Año: 2013
Guion: Danny Bilson, Paul De Meo, David Reed
Basado en Company of Heroes por Relic Entertainment
Producción Jeffery Beach, Phillip J. Roth
Intérpretes: Tom Sizemore, Chad Michael Collins, Vinnie Jones, Dimitri Diatchenko, Neal McDonough, Sam Spruell, Jürgen Prochnow
Sinopsis: Basado en hechos reales y aprovechando la tirada que ha tenido el juego con el mismo nombre, nos cuenta la historia de una unidad de soldados del ejército americano que se pierde tras las líneas enemigas durante la Batalla de las Ardenas y hace un terrible descubrimiento: los Nazis están desarrollando una superbomba.
Su misión será que los nazis no finalicen el desarrollo de esta super arma. Para ello, sacrifircarán sus vidas.
Trailer Company of Heroes
La película Company of Heroes, sólo estará disponible en DVD o Blue Ray. No se está haciendo mucha publicidad, pero por los actores que trabajan en ella, no debe ser mala.
También está disponible en varias plataformas online. Nosotros la hemos visto en Prime Video.
---
Más información