Age of Heroes
Age of Heroes nos explica la historia de un grupo de élite británico, formado a partir de soldados escogidos, tienen la misión de infiltrarse en Noruega y destruir unas torres que capta la llegada de los aviones y barcos aliados. La historia nos situa en 1942 en plena Segunda Guerra Mundial.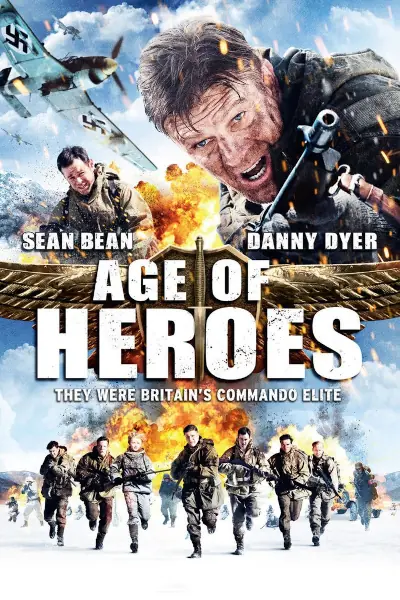 Film añadido a nuestro listado de películas de la Segunda Guerra Mundial.
Ficha película
Título original: Age of Heroes
Director: Adrian Vitoria
Año: 2011
Duración: 90 min.
País: Reino Unido
Guion: Ed Scates, Adrian Vitoria
Música: Michael Richard Plowman
Fotografía: Mark Hamilton
Intérpretes: Sean Bean, Danny Dyer, Izabella Miko, James D'Arcy, Sebastian Street, William Houston, John Dagleish, Daniel Brocklebank, Guy Burnet, Aksel Hennie, Rosie Fellner, Stephen Walters, Jay Simpson
Sinopsis: cada soldado con sus habilidades, deberán fiarse de una colaboradora que les espera para ayudarlos a cumplir la misión. Las SS por su lado, intentará capturarlos cometiendo en las montañas noruegas asesinatos masivos a los que colaboran con la resistencia.
Opinión
Personalmente, he visto Age of Heroes dos veces. La primera por novedad, y la segunda porque no recordaba su título.
Este film se basa en el comando real No 30 británico. Os dejo un enlace en la parte inferior a WikiPedia que os relata toda la historia de esta unidad. No dejéis de visitar el enlace porque vale la pena.
Como película, podría haber sido mucho más buena. Pero es aceptable, puede verse para pasar una tarde y recordad un poco a esta unidad británica que operó en el Norte de África, en el Pacífico, en el Mediterraneo y en el nordoeste de Europa donde se centra esta película en concreto.
---
Más información