The Winter War – Talvisota
No siempre rusia estuvo del lado de los aliados. En The Winter War Talvisota, veremos como los finlandeses se defienden en 1939 de la invasión de la URSS.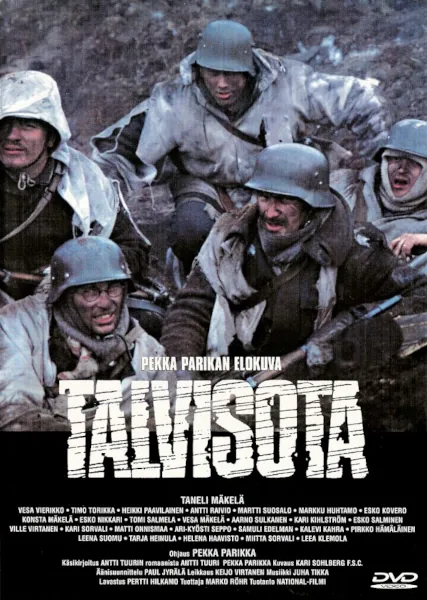 Película añadida a nuestro listado de películas de la Segunda Guerra Mundial
Ficha película
Título original: Talvisota
Año: 1989
Duración: 195 min.
País: Finlandia
Director: Pekka Parikka
Guion: Pekka Parikka ( Basada en la novela de Antti Tuuri )
Música: Jukka Haavisto, Juha Tikka
Fotografía: Kari Sohlberg
Intérpretes: Taneli Mäkelä, Vesa Vierikko, Timo Torikka, Heikki Paavilainen, Antti Raivio, Esko Kovero, Martti Suosalo, Markku Huhtamo, Matti Onnismaa, Konsta Mäkelä, Tomi Salmela, Samuli Edelmann, Ville Virtanen
Sinopsis: Dos hermanos luchan en el ejército Finlandés, y deben defender su país de la invasión soviética. En 1939 Alemania por un lado, y la URSS por el otro, invadieron Finlandia repartiendose el territorio.
Talvisota The Winter War
Tengo que decir que desconocía de la existencia de esta película. En YouTube viendo el ranking de 10 películas ambientadas en la Segunda Guerra Mundial, vi que ocupaba la cuarta posición.
No tardé en buscar información, y esto es lo que encontré:
Opinión
Lo primero que llama la atención es el tiempo de película, 3 horas. En mi opinión, ninguna película merece 3 horas sentado viéndola.
Yo he visto la película que os he dejado arriba, en Finlandés subtitulada al inglés…
La ambientación está muy lograda. La época, el vestuario, los escenarios, el armamento, los vehículos,… todo muy bien trabajado.
Y la cantidad de extras que salen en algunas escenas, es impresionante.
A mi me gustó y la recomiento. Eso si, paciencia en algunos momentos.
Curiosidad
Hay un juego con el mismo nombre. Podéis echar un vistazo en Steam.
---
Más información