Los vencedores de Carl Foreman
Los vencedores de Carl Foreman, es una película basada en una serie de historias cortas de Alexander Baron reunidas en un volumen titulado The human kind.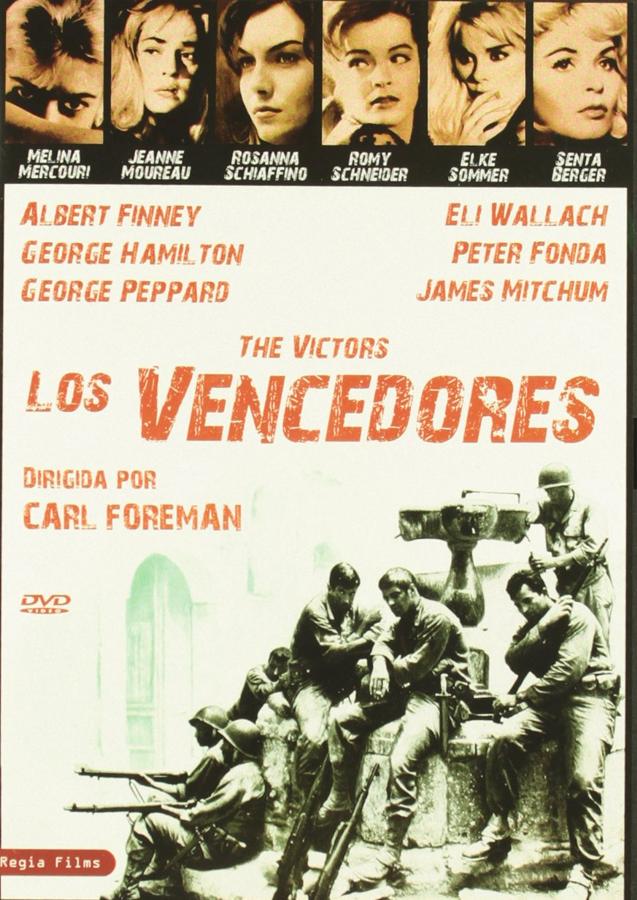 El Film Los Vencedores de Carl Foreman
Título original: The Victors
Director: Carl Foreman
Año: 1963
Duración: 175 min.
País: EEUU
Guión: Carl Foreman (Novela: Alexander Baron)
Música: Sol Kaplan
Fotografía: Christopher Challis (B&W)
Intérpretes: Vince Edwards, Albert Finney, George Hamilton, Melina Mercouri, Jeanne Moreau, George Peppard, Maurice Ronet, Rosanna Schiaffino, Romy Schneider, Elke Sommer, Eli Wallach, Michael Callan, Peter Fonda, James Mitchum, Senta Berger
Sinopsis:
Como ya hemos comentado anteriormente, es un film basado en la obra The human Human Kind (1953) de Alexander Baron, tercera entrega de una trilogia de guerra que creó. La película, eso si, cambia los personajes británicos por personajes estadounidenses para poder atraer esa audiencia.
En 1944, tras un duro adiestramiento, un contingente de soldados aliados que debe llevar a cabo misiones a través de toda Europa. Muestra como el bando vencedor, avanza por todo el territorio europeo a través de Inglaterra, Italia, Francia hasta llegar a Alemania. Podemos ir observando una Europa quemada, debastada… unos soldados cada vez menos humanos y más desmoralizados…
Podríamos pensar que es una película antibélica y que huye de espectacularidad. Además duran más de 2 horas.
Si después de lo que comentamos, os decidís a verla espero que Los vencedores de Carl Foreman os guste u os haga reflexionar sobre si hubo o no vencedores en la Segunda Guerra Mundial.
---
Más información