Hearts of Iron 4
Desde el corazón del campo de batalla hasta el centro de mando, llevarás a tu nación a la gloria y librarás guerras, negociarás o invadirás. Esto es Hearts of Iron 4.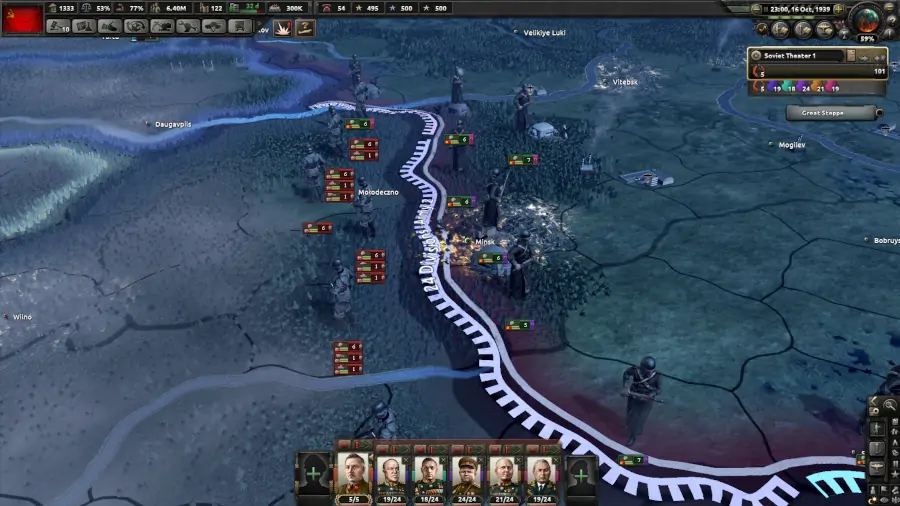 Juego añadido a nuestro listado de juegos de la segunda Guerra Mundial.
Ficha del juego
Con este texto te definen el juego:
"Desde el corazón del campo de batalla hasta el centro de mando, deberás conducir a tu nación hasta la gloria combatiendo, negociando o invadiendo. Tú tienes el poder de alterar la balanza de la II Guerra Mundial. Es hora de demostrar que eres el mayor líder militar del mundo."
Características
Por tierra, mar y aire.
Fábricas, laboratorios, comercio o salas secretas
Todo tipo de vehículos o armas: anques, aviones, barcos, armas de fuego y las recién descubiertas armas de destrucción masiva.
Puedes estar del lado de cualquier nación. Grandes potencias o una pequeña nación para intentar sobrevivir.
Clima: nieve, el barro o las tormentas que habrá que tener en cuenta.
Negocia o impone.
Requisitos mínimos del juego
SO: Windows 7 64-bit or newer
Procesador: Intel Core 2 Quad Q9400 @ 2.66 GHz / AMD Athlon II X4 650 @ 3.20 GHz
Memoria: 4 GB de RAM
Gráficos: ATI Radeon HD 5850 or NVIDIA GeForce GTX470 with 1GB VRAM
DirectX: Versión 9.0c
Espacio en disco: 2 GB de espacio disponible
Sonido: Direct X- compatible soundcard.
GamePlay del juego hearts of Iron IV
Hearts of Iron 4 es un título a tener en cuenta todos los amantes de la estrategia ambientada en la Segunda Guerra Mundial.
Además, también podéis echar un vistazo a la página web oficial para más información.
---
Más información