Company of Heroes : Tales of Valor
Company of Heroes : Tales of Valor es un juego de estrategia en tiempo real ambientado en la Segunda Guerra Mundial.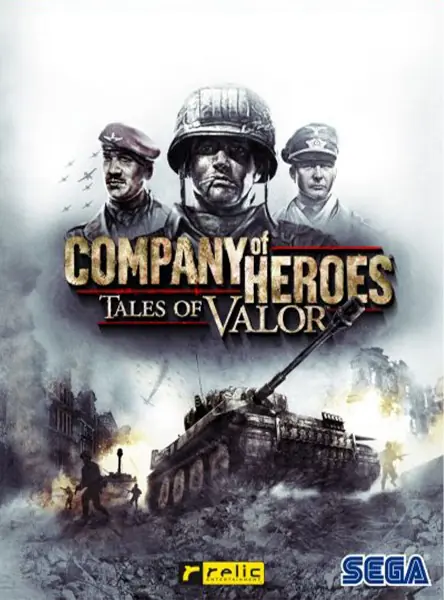 Juego añadido a nuestro listado de juegos de la Segunda Guerra Mundial.
Ficha del juego
Fue en casa de mi cuñado donde probé por primera vez el juego origial, el Company of Heroes. La estrategia en tiempo real no es que me emocione, y el poco tiempo que tengo no deja que esté 4 horas delante de mi Pc para pasar una misión.
Tres episodios, y cada uno con misiones diferentes. Con varios modos multijugador.
Episodio 1: Tiger Ace: Toma el control del condecorado Tigergruppen de Hauptmann Voss, el maestro de los tanques Tiger, contra la Séptima División Armada Británica durante el Día D en una de las batallas más famosas de la Segunda Guerra Mundial.
Episodio 2: Causeway: Dirige una Compañía Americana de Paracaidistas en las horas posteriores al aterrizaje del Día D.
Episodio 3: Falaise Pocket: Dirige la Armada Wehrmacht mientras tus soldados intentan detener el avance enemigo de los Aliados.
Review del juego
Requerimientos del juego
Sitema Operativo: Windows® XP o Vista
Procesador: Intel Pentium IV a 2.0 GHz o equivalente o AMD Athlon XP o equivalente.
Memoria: 512 MB RAM. 1GB MB RAM requerida para Vista
Tarjeta Gráfica: Tarjeta de vídeo de 64MB compatible con DirectX 9.0c con soporte para Pixel Shader 1.1 y controladores más reciente.
Sonido: Sonido: Tarjeta de audio de 16 bits compatible con DirectX® 9.0
En definitiva Company of Heroes : Tales of Valor, con una máquina de gama media-baja actual, puede jugarse sin problemas.
Si pensáis que os gusta este juego, quizás os pueda interesar también los que os recomendamos a continuación.
---
Más información