The hidden Truth of WWII
The hidden Truth of WWII, serie documental sobre la Segunda Guerra Mundial que desconocía. Está en inglés, y no se si se ha publicado en Español. Quizás se haya publicado con otro nombre, si alguien descubre que esta serie documental de 8 capítulo ha sido traducida al español, que avise.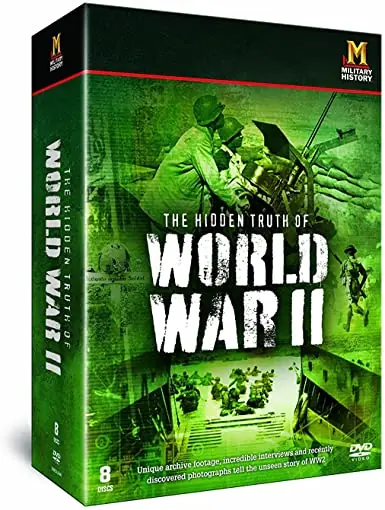 Documental añadido a nuestro listado de Documentales de la Segunda Guerra Mundial
El documental
Ofreciendo una nueva perspectiva de la historia, las imágenes únicas de alta resolución muestran la Segunda Guerra Mundial como nunca antes. Esta serie ofrece un punto de vista sin precedentes de las famosas batallas en Europa durante la Segunda Guerra Mundial, utilizando fotografías de reconocimiento recientemente desenterradas que se tomaron durante las batallas reales.
Durante más de 60 años estas fotografías han permanecido perdidas, u olvidadas… hasta ahora. Por primera vez, estas imágenes originales de alta resolución permiten al espectador seguir la batalla, paso a paso desde el aire. Las historias individuales de coraje y heroísmo se pueden colocar en el lugar exacto donde ocurrieron.
Usando tecnología de punta, películas de archivo únicas, recreaciones y entrevistas extraordinarias con los hombres que estuvieron allí, The Lost Evidence ofrece una nueva perspectiva de la historia. Contiene:
Alamein
Batalla de Gran Bretaña
Batalla de las Ardenas
Fuga de Normandía
Cruzando el Rin
Operación Market Garden
Stalingrado
La Liberación de París
Trailer
Si buscáis por Youtube… no digo mas.
---
Más información