Blessed is the Match
Blessed is the match es el primer documental sobre Hannah Senesh, periodista y poeta israelí que durante la Segunda Guerra Mundial que actuó en la Resistencia como guerrillera y paracaidista.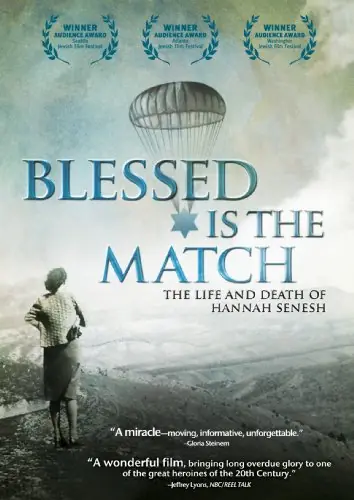 Documental añadido a nuestro listado de documentales de la Segunda Guerra Mundial
El documental
En 1944, Hannah Senesh, de 22 años, se lanzó en paracaídas sobre la Europa ocupada por los nazis con un pequeño grupo de voluntarios judíos de Palestina. La suya fue la única misión militar de rescate de judíos que ocurrió en la Segunda Guerra Mundial.
Narrado por la ganadora del Premio de la Academia Joan Allen, el multipremiado BLESSED IS THE MATCH sigue el extraordinario viaje de este joven poeta y cronista húngaro, paracaidista y luchador de la resistencia.
Contada a través de las cartas, los diarios y los poemas de Hannah, las memorias de su madre y los recuerdos de quienes la conocieron y la amaron (incluidos dos de sus compañeros paracaidistas), la película sigue su vida desde su infancia en Budapest hasta su tiempo en el territorio controlado por los británicos.
Palestina, donde fue atraída por el Movimiento Kibbutz que buscaba construir un estado judío independiente, a su audaz misión de rescatar judíos en su Hungría natal. Tanto devastador como inspirador, BLESSED IS THE MATCH ofrece un retrato íntimo de una niña singularmente talentosa, valiente y compleja que creía que una persona podía ser una llama que ardía con fuerza incluso en las horas más oscuras.
La historia de Hannah Senesh en las diferentes batallas en las que participó junto a otros israelís.
Trailer
---
Más información